5th VoiceS-Conference: European Teachers Network - Conference INSPIRATION - A short review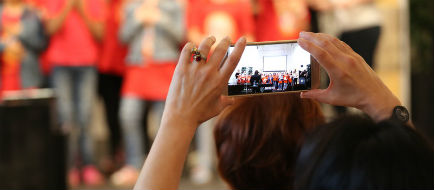 25th – 28th of April 2018 – The 17th International Week at the University College of Teacher Education Styria was a big success: More than 70 international colleagues from 18 countries stayed in Graz from April 25th – 28th to strengthen existing cooperation, to explore new ways of collaboration and to boost internationalization. 
The official opening with keynote speaker Yael Tågerud and 27 guest lectures and workshops were attended by more than 500 students and colleagues. Roundtable talks with the administration, a festive Erasmus dinner, the most delicious Austrian meal and a workshop at the Institute for Professionalisation in Vocational Teacher Education, as well as an additional social and cultural programme, were some of the highlights of the international week.
Keynote Yael Tågerud "Cultural Competences in Higher Education – What, Why and How Appreciating Diversity in Education" 
HS-Prof. Univ.-Doz. Dr. Klaus-Börge Boeckmann "Interkulturalität in der Krise? Neue Konzepte kultureller Diversität / Interculturality in crisis? New concepts of cultural diversity"
Photos of the 17th Come2Graz – International Week 2018 "VoiceS Conference" 
Thank you for being our guests at the Come2Graz International Week "VoiceS Conference" and hope to see you again in 2019!
"Come2Graz" again, 
the team of the Institute of Diversity Studies and International Relations